Lead Product Candidate - T3D-959
About T3D-959
T3D-959 is an investigational new drug candidate and is not approved for any indication in any markets.
T3D-959 Mechanism of Action
T3D-959 activates two nuclear receptors that are central regulators of normal glucose and lipid metabolism in the brain. T3D-959 is orally-delivered as a once-a-day medicine.
T3D-959 is the first PPAR delta-activating compound to be developed for the treatment of Alzheimer's disease (AD). Uniquely, this drug also activates PPAR gamma, albeit at 15-fold lower potency, which may provide potential additive or synergistic effects in regulating dysfunctional brain glucose energy and lipid metabolism in AD.
Both PPAR delta and PPAR gamma targets are central regulators of glucose and lipid metabolism. Agonism (activation) of both receptors maintains metabolic homeostasis in similar and different ways. PPAR delta is highly expressed throughout the central nervous system (CNS) and enriched in areas of the brain involved in energy homeostasis, e.g. the mediobasal hypothalamus.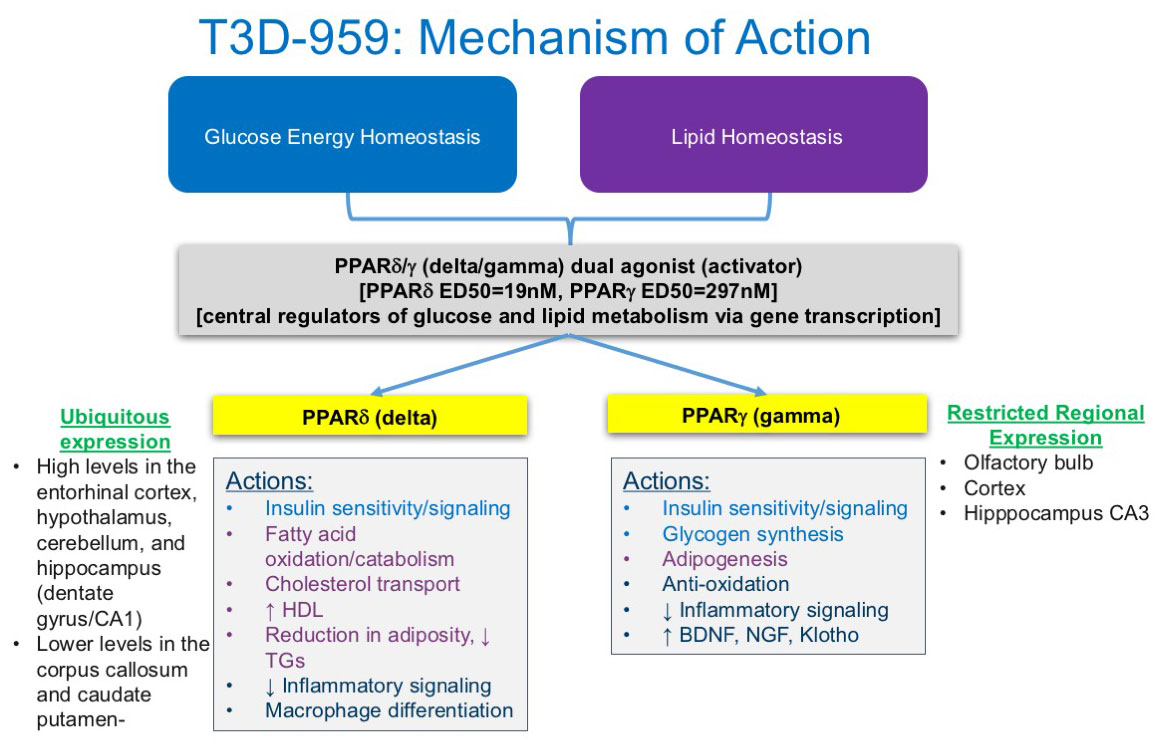 T3D-959 Use In Alzheimer's Disease – Preclinical Studies
Preclinical studies in an experimental rat model of sporadic Alzheimer's disease, demonstrated that T3D-959 abrogated or reduced most of the AD neuropathological and biomarker abnormalities. View Publication >>  These results support our belief that T3D-959 may have the ability to improve the multiple abnormalities caused by Alzheimer's disease and the potential for reversing the course of disease.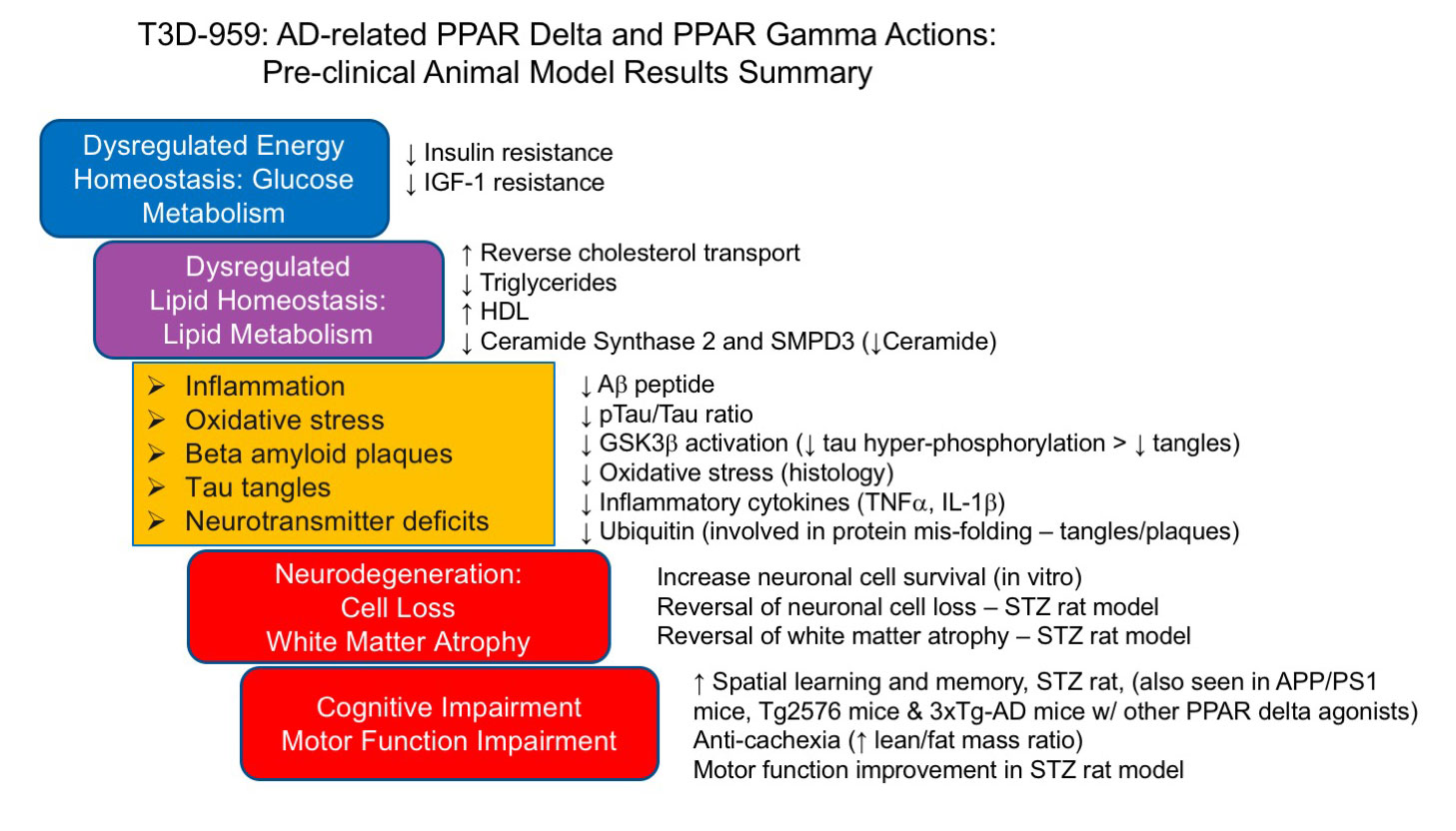 T3D-959 Use In Alzheimer's Disease – Clinical Studies
Clinical Studies – Phase 1
Phase 1 studies in 96 normal subjects dosed up to 7 days showed no drug-related adverse events and a maximum tolerated dose greater than 200mg (more than 2x the highest dose tested in Phase 2a), suggestive of a favorable safety and tolerability profile. Pharmacokinetics once-a-day oral dosing (Ref. 34).
Clinical Studies – Phase 2a
A Phase 2a exploratory / feasibility trial in mild to moderate Alzheimer's disease's patients has successfully concluded. The 34 subjects in this non-placebo controlled study received, on a randomized basis, one of 4 different doses of T3D-959 given orally once-a-day for 14 days.  Additionally, four completers participated in a 22-week open-label extension study.
Results from this Phase 2a feasibility study showed:
Potential improvement in cognition.
Potential to improve motor function / coordination.
Drug penetration into the human brain.
Target engagement in the brain.
High safety potential
A probable low dose range for effectiveness.
A potential patient enrichment strategy for future studies.
Rationale for progressing into a randomized,double-blind, placebo-controlled study.
View AAIC 2018 Presentation >>
Clinical Studies – Phase 2
A Phase 2 multi-center, double-blind, placebo-controlled study to evaluate the safety, tolerability, and efficacy of T3D-959 in patients with mild to moderate Alzheimer's disease, the PIONEER study (Prospective therapy to Inhibit and Overcome Alzheimer's Disease Neurodegeneration via Brain EnErgetics and Metabolism Restoration) has completed, results to be presented at a major conference. See https://clinicaltrials.gov/ct2/show/NCT04251182
T3D-959 Use in Huntington's Disease (HD)
The mechanism of action of T3D-959 provides a potential to improve dysfunctional glucose and lipid metabolism that is inherent in other neurodegenerative diseases, including certain orphan diseases. Extensive research on HD has demonstrated a central role for interference with the function of the nuclear receptor transcription regulator PPAR delta (the primary target of T3D-959) in contributing to HD pathogenesis. Administration of PPAR delta agonists to HD mice ameliorates disease phenotypes and extends lifespan, and PPAR delta agonists can prevent the cell death of medium spiny-like neurons derived from HD patient induced pluripotent stem cells (iPSCs) (Ref. 34). ND-enabling studies of T3D-959 for this indication are currently in progress.